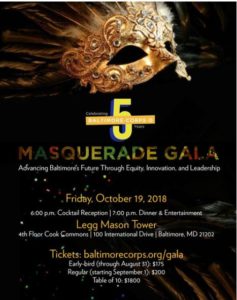 Jackson Management Group will be celebrating 5 years of service with Baltimore Corps on October 19, 2018.
Baltimore Corps was founded in 2013 by Fagan Harris and Wes Moore with a simple premise in mind: We need better ways for the most talented people to go to work solving the world's most important challenges.
In its short history, Baltimore Corps has expanded to enlist talent in advancing Baltimore's most promising social innovations through its Fellowship program and Place for Purpose service, connecting talent to opportunity in Baltimore's social sector, and through its Elevation Awards, which provide support for community leaders with community solutions.
A formal celebration of Baltimore Corps' first five years, honoring key champions along its journey and featuring local Baltimore artists. Purchase tickets at http://www.baltimorecorps.org/gala